Recap: 'Revenge' drops a bombshell – that we all should have seen coming
If you haven't seen last night's episode of 'Revenge,' I suggest you stop reading now and go watch it right this instant. Because something huge happened and you're not going to want to be spoiled for it by this piece.
Hokay. Ready? Did you watch it? Cool. Here it is: Nolan's winter wardrobe is even better than his flashy summer choices.
What? You thought I was going to talk about the reveal that the Graysons had David Clarke murdered in jail? Oh, please. That little thing? Soooo not important.
OK. I'm only half-kidding.
But before I tackle the latest in the Graysons long list of stupid things they've done, I really do want to talk about Nolan's wardrobe. Because after last week's flawless lobster sweater vest, I didn't think there was anyway this show could do better. But fast-forward 58 days (according to Declan), add in a little fake snow and we get an entire new season of clothes.
First there was this ensemble.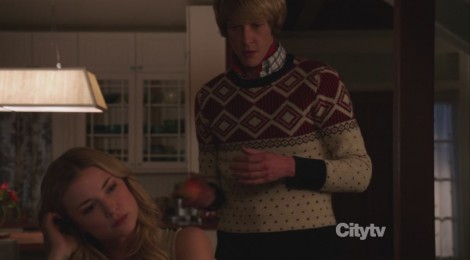 As you can see, this still requires the solid polo under a patterned oxford. Only instead of pairing it with the usual sport coat, Nolan has opted for a festive December-y looking sweater for some much-needed warmth. (Why is everyone still living in the Hamptons? I thought that placed cleared out before the cold weather set in? Whatever – maybe I'm wrong – I'm not up on my Hampton-ology.)

Later on in the episode Nolan graduated to several amazing vests. None of them were as entertaining as the lobster sweater vest of last week, but they were still pretty damn Nolanesque.

First up: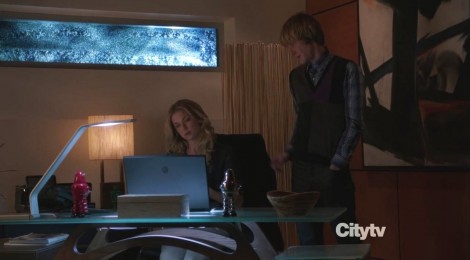 The lighting on this show sucks most of the time, which I'm sure is intentional, but it gets rather annoying. I guess you can't have a show about revenge looking like 'Pushing Daisies.' But it makes ogling Nolan's fashion choices more difficult. Anyway, I tried to brighten the photo, but if you can't tell, this sweater vest is several different colors. Including purple. And it's basically perfect.

Until you see his next vest: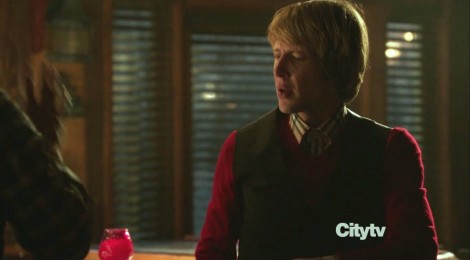 This is what Nolan wore to court that day. It's not a sweater vest, but an actual vest. Over a sweater. And an oxford plaid shirt. Later on in the episode he rolls the sleeves up and looks completely fabulous. He could be chopping wood in that outfit and everyone would still think, "Yes, yes. That is the perfect outfit for this particular setting or event." In this case he was merely standing being the bar.

Later on you see his that his penchant for popped collars extends to outerwear during the winter months: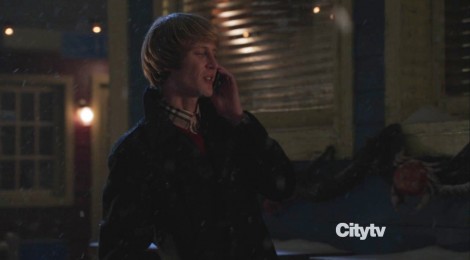 I think it's safe to say that the winter months haven't diminished Nolan's sense of style, or his spirit. Not to mention that in the beginning of the episode you saw that he was acting as bartender at the Stowaway while Jack was off hunting for Amanda. Nolan is someone I definitely want on my team, no matter what team it is.

Now that we got that out of the way I guess it's time to discuss that other big reveal of the episode. You know, the one about how the Graysons had David Clarke murdered in prison, but had it look like a normal run of the mill prison fight? Yeah, that one.

I don't know why I never suspected this to be the case before – especially after last week's prison shower rumble – but I just didn't. That beating Daniel took in the shower's was an obvious foreshadow to the two prison related storylines of "Justice."

But the show never really gave us a reason to believe that David's death was anything but accidental. Except that everything about this show gave us a reason to believe that it wasn't accidental. The show is about the daughter of a man framed for something he didn't do getting revenge on the people who put him in prison. Why wouldn't we have thought they also had him killed? It's common sense. And yet, I never thought about it. Probably because I've been too busy fixating on Nolan's wardrobe and making up a backstory as to how Kyle Valenti came to own/run a bar in Montauk and wondering where the hell Max, Liz, Michael and Maria are right now. But it was staring us in the face the whole time.

And from what I gathered around the interwebs, most of us didn't really see it coming. Not until we saw what's-his-face hanging in his cell at Rikers.

With only a handful of episodes left this season, I think it is safe to say we know what will be driving Emily's revenge next season.

Note: Photos courtesy of ABC.